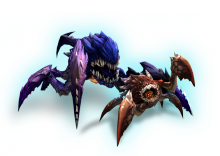 Hellbugs are a race of six-legged creatures that were created as a byproduct of terraforming technology.
They are capable of maneuvering quickly through the ground using their massive maws, and use underground tunnels to deliver food to their matriarch.
There are many different types of Hellbug, and all are very dangerous, possessing razor sharp teeth and very durable outer shells.