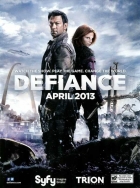 The video game is being produced in collaboration with Rockne S. O'Bannon and the rest of the team behind the Defiance TV show and the two will be inter-connected.
Defiance follows the story of Joshua Nolan, a local lawman in a refugee camp known as Defiance, and takes place some time after conflict with aliens leaves Earth all but destroyed.
Season one will consist of 13 episodes, and premieres Monday, April 15, 2013.
Episodes
"Pilot"
"Down in the Ground Where the Dead Men Go"
"A Well Respected Man"
"The Devil in the Dark"
"The Serpent's Egg"
"Brothers in Arms"
"Goodbye Blue Sky"
"I Just Wasn't Made for These Times"
"If I Ever Leave This World Alive"
"The Bride Wore Black"
"Past Is Prologue"
"Everything Is Broken"