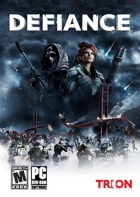 Defiance is a science-fiction MMO first-person shooter developed by Trion Worlds for the PlayStation 3, Xbox 360, and Microsoft Windows. The game takes place on a terraformed Earth several decades in the future and is closely tied into the Syfy show of the same name.
Karl Von Bach, of Von Bach Industries, has announced an expedition to the San Francisco Bay Area in search of advanced and valuable arktech. Publicly asking for volunteers to join, becoming Ark Hunters, the expedition suffers disaster when the Stratocarrier EMS New Freedom is mysteriously shot down and Von Bach has gone missing.
Defiance Brainwaves
2nd May, 0 replies

Trion Worlds have announced that their "post-apocalyptic massively co-op online cyberwestern shooter",...
Share Defiance with others