Donkey Kong Country Returns is a 2D side-scrolling platformer and is the fourth game in the Donkey Kong Country series. The game plays very similar to its predecessors with a few notable changes, such as Donkey Kong being the only playable character in single-player.
General Gameplay
Players take control of Donkey Kong. He can run, jump and perform an offensive roll maneuver, as well as a ground pound move. He can also pick up and hurl barrels to defeat enemies. Donkey Kong can also "blow" to reveal hidden items and can grab and climb grassy surfaces. Upon finding a Kong Barrel, Donkey can free his pal, Diddy Kong, who rides on his back and can use his rocket pack to grant a hover ability.
When teamed with Diddy, the two simians can perform a devastating roll attack that can be kept in motion and used to mow down enemies. Unlike the previous installments, the player primarily controls Donkey only and cannot switch between him and Diddy Kong.
Players must guide Donkey Kong to the end of each level. There are several levels in each world, which is concluded with a boss fight. Players traverse the world via a map, where they select each level.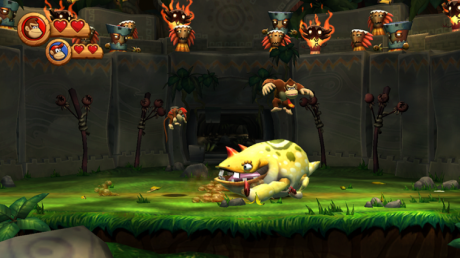 Multiplayer
Donkey Kong Country Returns features simultaneous multiplayer in which a second player plays as Diddy Kong. Diddy is used independently but can also mount Donkey Kong to help Player One with his hovering abilities.
Collectibles
Players can collect bananas scattered throughout the levels. Collecting 100 bananas rewards the player with an extra life, as does collecting all of the KONG letters in a level or finding a life balloon. Players can also collect Banana Coins, which are used as currency in Cranky's Shop.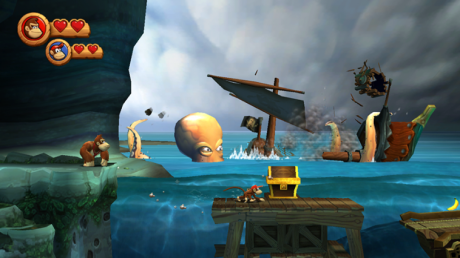 Puzzle Pieces and KONG Letters
In each level there are a number of Puzzle Pieces to find as well as four KONG letters.
The Puzzle Pieces are hidden in a variety of ways in addition to being awarded upon completing bonus levels, where players have a set time to collect all of the bananas present. Collecting Puzzle Pieces unlocks art and dioramas.
Collecting all four of the KONG Letters in every stage of a world will unlock a secret level in that world called a Key Temple. Completing a Key Temple will award the player with a Rare Orb. After all of these orbs are obtained from every world, the Golden Temple is unlocked. Once that area is finished, a mode called Mirror Mode will open up. In Mirror Mode, players play flipped versions of each level, are only granted one hit-point, and Diddy Kong cannot be used.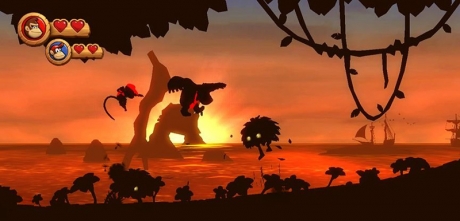 Time Attack Mode
Whenever the player has completed any level, they can return to it and access that stage's Time Attack. Players must race through the stage and try to beat various times, which can award them with one of four different medals: Bronze, Silver, Gold or Shiny Gold. Lives cannot be lost in Time Attack and it does not contribute to the overall game percentage.
Kongs
Cranky Kong is the only member of the Kong Family in Donkey Kong Country Returns. He runs the shop in the game where players can purchase helpful items in exchange for Banana Coins.
Super Kong is a white version of Donkey Kong. When players lose eight lives in a row in a level, they are given the option to use the Super Guide, in which the computer completes the level for them as Super Kong.