Fable: The Journey is an action role-playing and the fifth installment in the Fable series.
Set fifty years after the events of Fable III, the game takes place throughout large portions of Albion and reflect choices made in a Fable III save file. The player controls Gabriel, who has been separated from his tribe, as he journeys with Theresa, a girl wounded by a darkness called The Corruption, as they make their way to the Tattered Spire to restore her power.
Fable: The Journey is a first-person game that has players use the Kinect to cast magic in order to defeat enemies and manipulate the environment.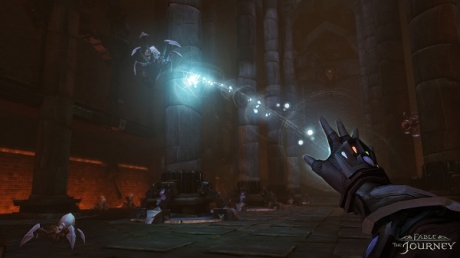 The player must use their hands and arms to make gestures, to create and cast spells. The more simplistic the action, the less powerful the spell.
Aside from attack spells, the player can also use spells to manipulate their environment, such as moving enemies or objects with "Push" and "Drag". Also available is the ability to "draw" items to create them with magic, such as a spear, shields, or hammers that can be used as weapons or protection against your foes. Players can also create fishing rods and telescopes, which are useable in mini-games.
As enemies are defeated, life force (EXP) is collected, which can then be used to unlock new spells to aid in your quest.
Traveling
Although defeating enemies is a large portion of the game, the player will also spend a large amount of time traveling by carriage.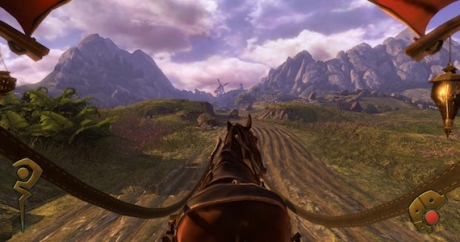 Driving the horse requires "holding" the reins and guiding the horse along a path. The player can stop the horse by pulling back on the reins or flick the reins to urge it on faster.
Aside from simply using the carriage for travel, the player is also responsible for caring for their horse by petting and brushing it.