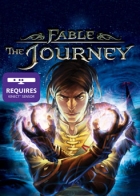 Fable: The Journey is an action role-playing game developed by Lionhead Studios for Xbox 360. It is the fifth installment in the Fable series and uses the Kinect to allow players to manipulate magic in order to defeat enemies.
Set fifty years after the events of Fable III, the game takes place throughout large portions of Albion and reflect choices made in a Fable III save file. The player controls Gabriel, who has been separated from his tribe, as he journeys with Theresa, a girl wounded by a darkness called The Corruption, as they make their way to the Tattered Spire to restore her power.
Fable: The Journey Brainwaves
16th April, 0 replies

It has been announced that Ted Timmins, the Franchise Manager for the Fable series, has left Lionhead. Timmins...

20th August, 0 replies

Lionhead Studios today announced Fable Legends for the Xbox One. The debut trailer for the game was also...
Share Fable: The Journey with others