There are always other ways that you can make the game more interesting than just the life goal of your sim. These are a list of challenges that the game the provides ranging from challenges for the personal lives of the sim to the more career oriented challenges. Some challenges unlock more options in the game such as different Karma powers.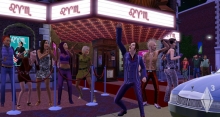 20 Fingers and 20 Toes
Birth Twins
30 Fingers and 30 Toes
Birth Triplets.
A Ghost!
See a ghost at the graveyard or see a loved one die.
A Novel Idea
Write a book.
All Your Base
Have ownership papers for all 11 businesses in town.
And No Slackin'!
Start a formal career.
Angler Management
Catch a perfect specimen of all 21 types of fish.
Baby Steps
Complete designing your first sim.
Be Excellent To Each-other
Have your Karma meter full at 100.
Be My Guest
Invite a sim over.
BFF!
Become best friends with a sim.
Brahe-ging Rights
Discover a Star with your telescope.
But it's Inflammable!
Set your sim on fire have have another sim put out the fire.
Career-Orientated
Reach level 5 in all career opportunities.
Classy
Attend a skills class.
Cornucopia
Grow a perfect specimen of all 19 types of plants.
Do Your Homework!
Have your child or teenage sim finish their homework.
Don't Forget The Cake!
Buy a birthday cake and have a sim blow out the candles. This will advance the sim up an age level.
Downtowner
Attend all 6 town events.
Duck Time
Take a bubble bath.
Easy Money
Have a sim bring in at least $5,000 dollars into the family income when you marry.
Enunciate
Teach your toddler to talk.
Epic Fail
Use Epic Fail on 13 sims.
Epic Party
Throw a party where every thinks awesome as they leave.
Erudite Bibliophile
Read all 27 books that the game provides your sim.
Family Heirloom
Paint and sell a Painting worth at least $8,000.
Family Oriented
Have five children.
Find Your Muse
Get inspired at the Museum of Art.
Friends With Exoskeletons
Catch 5 bugs.
Fun for the Whole Family!
Find 5 stones.
Fundraiser
Throw a campaign fundraiser.
Golden Tongue / Golden Fingers
Reach level 10 in both Charisma and Guitar on one sim.
Graduated
Complete the tutorial.
Hacker
Hack funds into your family account from your home computer.
Happiness... It Stacks
Have 5 positive modlets on you sim at once.
Happy Little Trees
Paint a painting.
Heartbreaker
Make 10 boyfriends/girlfriends.
Hometown Hero
Upgrade all buildings in town.
"I Am Become Death"
Have 10 of your sims die.
I Double Dare Ya
Explore the Cemetary Catacombs.
It's a Date
Go on a date with a sim.
Jack of All Trades
Have five different promotions in 4 different career choices.
Leet Skillz
Complete 10 skill milestones.
Master Architect
Have a house that is worth $350,000 or more.
Mightier Than the Sword
Write a book in every genre that is available. Some genres will not appear until you have written a book in another genre.
Miracle Worker
Grant 1,000 wishes.
Movin' On Up
Move to a new house.
No More Diapers!
Potty train your toddler.
No More Skinned Knees!
Teach your toddler to walk.
Not dead yet.
Use Divine Intervention on your sims ghost to bring them back to life.
Not Twice, But 10 Times
Completed 10 Opportunities.
Perfect Mind Perfect Body
Get level 10 in both the Logic and Athetic Skills.
And many more challenges!