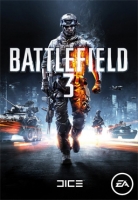 Battlefield 3 is a first-person shooter developed by EA DICE and published by Electronic Arts for Microsoft Windows, Playstation 3, and Xbox 360. It was first revealed in Game Informer magazine on February 3rd 2011, and was released in North America on October 25th 2011. It is the first main series Battlefield game to feature a single-player mode, and the eleventh Battlefield game in total.
IN BATTLEFIELD 3, PLAYERS STEP INTO THE ROLE OF THE ELITE U.S. MARINES. AS THE FIRST BOOTS ON THE GROUND, PLAYERS WILL EXPERIENCE HEART-POUNDING MISSIONS ACROSS DIVERSE LOCATIONS INCLUDING PARIS, TEHRAN AND NEW YORK. AS A U.S. MARINE IN THE FIELD, PERIODS OF TENSION AND ANTICIPATION ARE PUNCTUATED BY MOMENTS OF COMPLETE CHAOS. AS BULLETS WHIZ BY, AS WALLS CRUMBLE, AS EXPLOSIONS FORCE PLAYERS TO THE GROUND, THE BATTLEFIELD FEELS MORE ALIVE AND INTERACTIVE THAN EVER BEFORE. (From: http://www.battlefield.com/battlefield3)
Battlefield 3 Brainwaves
23rd June, 0 replies

It seems that EA's Battlefield series simply can't get out of the gaming news as of late, and for all...

29th May, 0 replies

Earlier this year, EA Games launched their "On the House" program for their Origin digital distribution...
Share Battlefield 3 with others