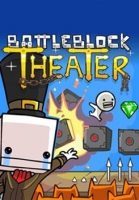 BattleBlock Theater is a platforming game developed by The Behemoth and published by Microsoft Studios exclusively for the Xbox 360. It is the third game developed by The Behemoth and was released via Xbox Live Arcade on April 3, 2013.
The game is set on a mysterious island ruled over by sadistic cats who like nothing more than to amuse themselves by forcing their prisoners to take part in deadly theatrical plays. You play as a nameless protagonist who, along with his best friend Hatty Hattington, becomes shipwrecked on the island and subjected to the deadly games of the cats.
BattleBlock Theater Brainwaves
25th August, 0 replies

The Behemoth, developers of Castle Crashers, Alien Hominid and Battleblock Theatre, have released a teaser...
Share BattleBlock Theater with others