Xbox Live Arcade is Microsoft's digital store on the Xbox and Xbox 360. The Xbox Live Arcade service was officially announced on May 12, 2004, at Microsoft's E3 press conference and launched on December 3, 2004, for the original Xbox.
On November 22, 2005, XBLA was relaunched on the Xbox 360. The service was integrated into the main Dashboard user interface, and the Xbox 360 hard drives were bundled with a free copy of Hexic HD.
It features both full retail games and smaller download-only games. It also hosts demos for almost any game on the service and many retail games. Xbox Live Arcade features games from large publishers and indie developers, but without a publisher attached to it indie games are generally relegated to the much less successful Xbox Live Indie Games.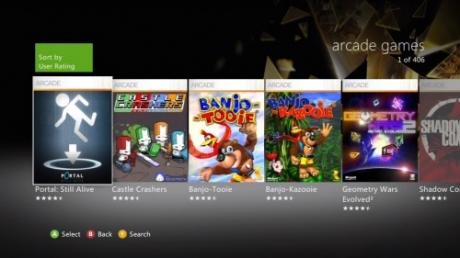 Prices of Xbox Live Arcade games generally range from $5 - $20, and games must be purchased with Microsoft (MS) Points. Until recently MS Points had to be purchased in bundles incongruous with the cost of actual games. 800 MS Points are worth $10, which is a common price for games on Xbox Live Arcade, but points had to be purchased in bundles of 1000 or 500, creating a lot of extra expense for gamers on the service.
On July 30, 2008, Microsoft announced the XBLA Summer of Arcade. Anyone who downloaded one of the titles released over August (Geometry Wars: Retro Evolved 2, Braid, Bionic Commando Rearmed, Galaga Legions and Castle Crashers) would be entered into a prize draw with a grand prize of 100,000 Microsoft Points, 12 Month Xbox Live Gold subscription, and an Xbox 360 Elite console. Summer of Arcade has been a main feature of XBLA ever year since.