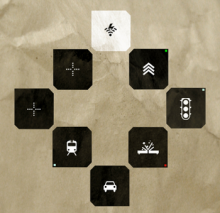 This piece of equipment is Pearce's main item, which he starts with. It is used to gain access to personal data and new missions.
For example, if Pearce observes through the profiler that a person is a rapist and follows a woman into an alley, the player can choose to follow them and gain access to a mission.
The Profiler is shown to have 8 abilities each one allowing Pearce to interfere with a specific element of the city.
Each active ability, when used, depletes the profiler's battery.
The active abilities are:
Signal Jamming – Disables all communications within a certain radius.
Lift – Forces bridges/street barriers to lift or close.
Traffic Lights Control – Manipulates traffic lights.
Train Control – Controls subway trains.
Rupture Pipe- Causes pipe boxes to explode, slowing down anyone caught in the damage as a result.
Blackout - Causes the entire city to blackout.
There are also passive abilities, which do not cost you battery life but can still be used at any time. Telephone Hacking is an example of one of these 'passive' abilities; you can listen in to people's phone conversations without fear of depleting your profiler's battery life.
The profiler's abilities upgrade over the course of the game.