Watch Dogs is an open world, third-person action/adventure game. Players take on the role of Aiden Pearce, an expert hacker, who also happens to be adept at combat and using guns.
Watch Dogs allows players the choice of as much stealth or action as they want to progress through the streets of Chicago. You can, for example, hide in shadows to sow some chaos by hacking into the systems that make the city run, or you can just go right at your target all guns blazing; the choice is yours.
Open World
The world in Watch Dogs is a massive open world, set in a recreation of the real-world city of Chicago. It's a living, breathing world, full of NPCs going about their own tasks, as well as businesses and firms that combine to give Watch Dogs the feeling of a real city. A number of Chicago's famous landmarks will also make an appearance, including the Willis Tower and The Loop.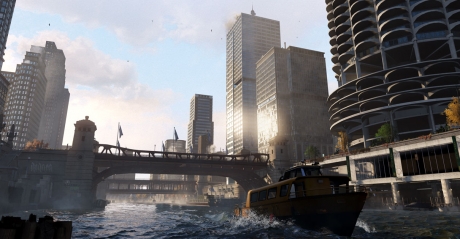 For a complete list of the key locations in the game, see the Locations section.
Hacking Abilities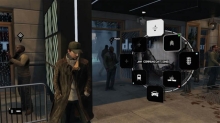 The main mechanic of Watch Dogs is the hacking system, which is organized through a radial menu via an item called a Profiler, which features eight distinct abilities that Aiden can use.
Those abilities are used to disrupt the environment, so you can put your plan in motion unseen or make a quick escape.
Signal Jamming
Disables all communications within a certain radius, making it harder for pursuers to track Aiden.
Raise Bridges
Forces bridges and/or street barriers to lift or close. This can be used to escape from police cars, for example, by lifting barriers to halt their pursuit.
Traffic Lights Control
Manipulates traffic lights. This was shown being used in the very first trailer for the game, as Aiden changed the traffic light displays to cause a massive pile up.
Train Control
Controls subway trains. Another useful tool for escaping, Aiden can halt passing trains and jump on board.
Rupture Pipe
Causes pipe boxes to explode, slowing down anyone caught in the damage as a result.
Blackout
Causes a blackout throughout the city. This can be used to create confusion and chaos, allowing Aiden to gain the upper hand in an engagement or escape unnoticed.
Passive Hacking
Whilst Aiden has access to some very specific hacking abilities (as detailed in the section above), he is also able to hack more generally without resorting to using the radial menu on his Profiler. These hacks are called passive hacks and there are dozens of these to be found in the game.
As you move about the city you will glean information fro NPCs in the game world, you can also tap into people's mobile phones and listen to their conversations, hack into and observe security cameras, and even hack people's bank accounts.
Combat & Stealth
When it comes to the action side of Watch Dogs it offers the mostly standard cover-based third-person shooting you'd expect from an open world game but with the addition of player-initiated bullet time which allows you to slow down time in order to chain actions together. Aiden is also more than capable of holding his own in hand to hand combat.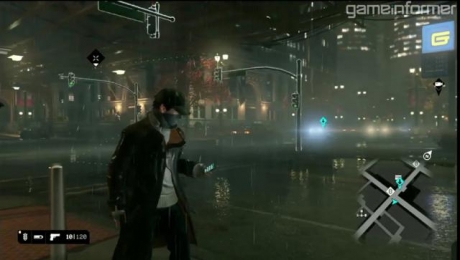 For a more information on the different weapons found in Watch Dogs head on over to the Weapons section.
Alternatively, you can try and avoid combat at all costs, using your hacking abilities to monitor and manipulate enemy NPCs, gain access to restricted areas, and generally stealthily complete missions objectives. For example, if Aiden is attempting to get passed a guard who is watching over a gate, he can hack the gate and open it in order to distract the guard before slipping past (or taking him out!).
Reputation System
Aiden will gain a reputation as the game progresses. The actions he takes - be they good or bad - will make him more and more notorious. If Aiden tends to help people, for example by helping a lady who has been mugged, then Aiden will gain positive notoriety and this will affect how NPCs react to him, even to the extent that they won't report Aiden to the police when they recognise him.
If you tend to use your abilities negatively, for example robbing stores or killing people, then you will gain negative notoriety and this will make people more disposed to report you to the police.
Vehicles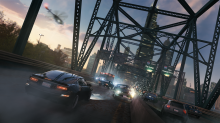 Since the game features a huge city to play around in, Aiden will also have access to a number of different transport options, to make navigating the city less of a chore. These can be things that he simply hijacks, while other transportation can be accessed through hacking the grid.
Transport options include the public train system - the L Train - which is based on the actual system used in modern day Chicago, to private vehicles like cars and bikes. Aiden can also hack whilst driving these vehicles. For example, whilst being pursued by police, Aiden can lift bollards to prevent their pursuit.
For more information, see the Vehicles section.
Multiplayer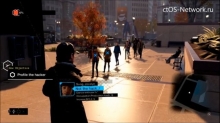 The game will have various multiplayer modes, both cooperative and competitive. Both work in the same manner, with a character jumping into your game using a mobile device seemlessly (i.e. you will not know someone has come into your game).
Depending on the mode, the player will then try to hinder the player or help the player in achieving their objective. If they're trying to hinder your progress, you can try and locate the other player using facial recognition software. Once revealed, you can try and track them down and take them down.
If playing multiplayer cooperatively, you can join another person's game and attempt to help them by, for example, hacking road blocks to help Aiden get away from the authorities.