The "Horizon Heats" event is your first official race event. Once you've finished in the top three you'll earn what are called wristbands, which will begin to unlock the events available in Forza Horizon.
Showcase Events
These race showdowns are all about entertaining the crowd with races that wouldn't happen in any other racing game. The first showcase event is 'Mustang vs. Mustang', where a 1970 Ford Mustang faces off against a P51 Mustang Airplane.

If you win the showcase event the car you raced in will be added to your garage as a reward.
Festival Events
Festival Events are the most common events in the game and tend to feature more traditional race types. They're scattered all over Colorado. As you progress, acquiring more and more wristbands, more events will open up for you.
Star Showdowns
In Star Showdown events you'll be challenged by the festival's best drivers. These are some of Forza Horizon's toughest races and the stakes are high – beat your rival and you'll win his or her car.
Outposts
Outposts act as fast-travel hubs for you in Horizon and are scattered throughout the open world. By competing in the Outpost PR Stunts at each hub, you'll earn a discount on fast travel to that Outpost.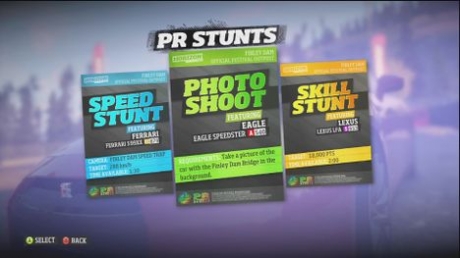 Street Races
Street Races are traditional point-to-point race events. If you manage to beat all of the street races in a race hub you win a car for your Forza Horizon garage.
Rivals Mode Events
Every event you complete in Forza Horizon is automatically added to the game's online Rivals Mode event line-up. In Rivals Mode, you can challenge your friends and the Forza universe by setting your best time at an event. Then, each time you play a Rivals Mode event, you'll find a ghost car to race against. Beat that time and you'll move your way up the leaderboards.