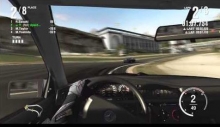 As with all games in the Forza series, multiplayer is a core focus of the title. Forza Horizon supports online play for up to eight players via Xbox LIVE. The following modes and features are included:
Free Roam
You can take part in free roam matches, where you make the rules up as you go along, or group up with friends and go head to head.
Co-op Challenges
It's not all competitive though. You can work together with your friends to accomplish skill-based objectives, such as driving a certain number of miles or taking a road trip from one landmark to another.
Playground Games
It's not all serious tho. Enter Playground Games - the Forza version of mini-games. Modes like Cat & Mouse and Tag (Virus) come to Forza Horizon's open road.
User Generated Content
The Forza series is well known for its customisation options. Once again you can create and purchase thousands of user-created liveries.
Rivals
Every event you beat in Forza Horizon becomes a 'Rival' event, where you can challenge your friends to set the top time on a leaderboard.
Hoppers
For quick and easy races - if you just want to jump online and get straight into a race, then these are for you.