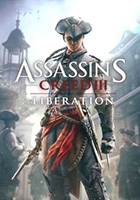 Assassin's Creed III: Liberation is a historical action-adventure open world game that was developed by Ubisoft Sofia for the PlayStation Vita. It was released on October 30, 2012 alongside Assassin's Creed III, with which it can be linked.
The game follows Aveline de Grandpré, an African-French Assassin, between 1765 and 1780, near the end of the French and Indian War and makes use of the Vita's touchscreen, rear touch pad, cameras, and gyroscope. By linking the game with Assassin's Creed III, the player will receive an in-game version of Connor's tomahawk, an exclusive character skin, a multiplayer character, and a complete upgrade of all ammunition pouches.
Assassin's Creed III: Liberation Brainwaves
16th April, 0 replies

Sony's eighth generation dedicated gaming handheld, the PlayStation Vita, has sold more than 10 million...

28th November, 2 replies

The Xbox 360 version of Assassin's Creed Liberation HD will be available on Xbox Live Arcade on January...

24th October, 3 replies

Assassin's Creed III: Liberation stealthily made its way to the PlayStation Vita last year and became...
Share Assassin's Creed III: Liberation with others
Assassin's Creed III: Liberation