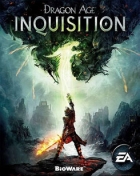 Dragon Age: Inquisition is an action role-playing game developed by BioWare and released on Microsoft Windows, PlayStation 3, PlayStation 4, Xbox 360, and Xbox One. It is the third installment in the Dragon Age series and is also set on the continent of Thedas.
Take on the role of the Inquisitor and lead the forces of the Inquisition. As the leader of the Inquisition, players can make choices and decisions, such as choosing to post forces in an area by capturing forts or keeps. Once captured, new sections of an area can become available allowing greater exploration, new quests and rewards.
Dragon Age: Inquisition Brainwaves
11th June, 0 replies

Dragon Age: Inquisition's producer Cameron Lee has revealed today, in response to a question on Twitter,...

10th April, 0 replies

So it looks like we won't see any DLC characters for Dragon Age: Inquisition. The reason? Because BioWare...

20th December, 0 replies

If the last game's ending didn't completely turn you off the series, you'll be pleased to hear that Bioware's...
Share Dragon Age: Inquisition with others