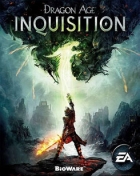 Dragon Age: Inquisition is an action role-playing game developed by BioWare and published by Electronic Arts for Microsoft Windows, PlayStation 3, PlayStation 4, Xbox 360, and Xbox One in November 2014. It is the third installment in the Dragon Age series and is set on the continent of Thedas.
In Dragon Age: Inquisition you take on the role of the Inquisitor and lead the forces of the Inquisition. As the leader of the Inquisition, players can make choices and decisions, such as choosing to post forces in an area by capturing forts or keeps. Once captured, new sections of an area can become available allowing greater exploration, new quests and rewards.
Dragon Age: Inquisition Brainwaves
19th November, 0 replies

Looking forward to Dragon Age: Inquisition? Live in India? Well, you may need to hit the brakes on your...

3rd November, 0 replies

Developer Failbetter Games has announced a new Dragon Age game, called Dragon Age: The Last Court, which...

9th October, 0 replies

EA's On The House promotion has already seen games like Peggle, Plants vs. Zombies: Garden Warfare, and...
Share Dragon Age: Inquisition with others