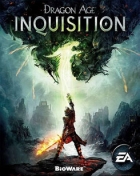 Dragon Age: Inquisition is an action role-playing game developed by BioWare and published by Electronic Arts for Microsoft Windows, PlayStation 3, PlayStation 4, Xbox 360, and Xbox One in November 2014. It is the third installment in the Dragon Age series and is set on the continent of Thedas.
In Dragon Age: Inquisition you take on the role of the Inquisitor and lead the forces of the Inquisition. As the leader of the Inquisition, players can make choices and decisions, such as choosing to post forces in an area by capturing forts or keeps. Once captured, new sections of an area can become available allowing greater exploration, new quests and rewards.
Dragon Age: Inquisition Brainwaves
27 days ago, 0 replies

Dragon Age: Inquisition's first DLC - Jaws of Hakkon - recently launched on the Xbox One and PC, but...

12th March, 0 replies

BioWare's latest acclaimed Dragon Age game - Dragon Age: Inquisition - is free to try this week on Xbox...

11th January, 0 replies

'Narrative? That's just stories, aye?' Sam said, leaning back in his chair. 'Why not just call it Best...
Share Dragon Age: Inquisition with others