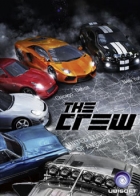 The Crew is a racing game being co-developed by Ivory Tower and Ubisoft Reflections which is due to be published by Ubisoft for Microsoft Windows, PlayStation 4, and Xbox One in December, 2014.
Set in a persistent, open-world recreation of the United States that's full of players to challenge, The Crew is set to feature a packed campaign that will last upwards of 20 hours and will feature of variety of race types.
The Crew Brainwaves
18 days ago, 0 replies

Ubisoft's next gen racer, The Crew, will now be releasing this December 2nd, Ubisoft have announced via...

14th August, 0 replies

When Ubisoft's The Crew was first announced in 2013, it was originally touted as a next gen racing game...

12th April, 0 replies

The Crew is an upcoming street racing game from Ubisoft. It features the arcade street racing quality...
Share The Crew with others
The Crew
Alfa Romeo Aston Martin Bentley BMW Chevrolet Dodge Ford Hummer Lamborghini Maserati Mini Nissan RUF Shelby
Aspen, Colorado Black Hills, South Dakota Chicago, Illinois Death Valley, California Detroit, Michigan Las Vegas, Nevada Los Angeles, California Miami, Florida Monument Valley, Utah New York, New York