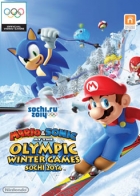 Mario & Sonic at the Sochi 2014 Winter Olympic Games is a sports mini-game compilation that is developed by Sega Sports R&D and published by Nintendo, for the Nintendo Wii U. It is the fourth installment in the Mario & Sonic series, which combines Nintendo's popular Mario series with Sega's popular Sonic the Hedgehog series, and has their mascots compete in various Olympic events.
The game is set to match with the real-world Olympic Games in 2014, with some events reflecting the real-world events. There are also events that have their own spin, called Dream Events. It is the first game in the series to not have a handheld version, as well as being published outside of Japan by Nintendo.
Mario & Sonic at the Sochi 2014 Olympic Winter Games Brainwaves
1st February, 0 replies

The following Sonic advert was spotted at last week's Nuremberg toy fair. As well as the upcoming Mario...
Share Mario & Sonic at the Sochi 2014 Olympic Winter Games with others
Mario & Sonic at the Sochi 2014 Olympic Winter Games