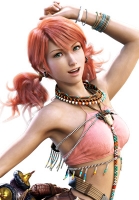 Oerba Dia Vanille is a playable character and the narrator in Final Fantasy XIII. A mysterious young girl, with a dark past, she is a caring and upbeat person from Oerba in Gran Pulse. She also appears as a minor character in Final Fantasy XIII-2.
During the War of Transgression, Vanille and Fang lost their whole lives to the war with the fal'Cie. Wishing to protect their home, the two became l'Cie and were granted the power of Ragnarok, with a Focus to destroy Cocoon. Despite this, Vanille was unable to complete her focus, leaving Fang alone to perform the task. Without their combined power, Fang was only able to scar Cocoon's shell and the two were crystallized by the goddess Etro. 700 years later, the two awake from crystal stasis and, unwilling to stand by and watch Vanille become a Cie'th, Fang vows to complete their Focus.
Latest Games
Developed by Square Enix for WIN, PS3, X360

Lightning Returns: Final Fantasy XIII is a role-playing game developed and published by

Square Enix

for the

PlayStation 3

and

Xbox 360

. It will be released on November 21, 2013 in Japan, on February 11, 2014 for North America and February 14, 2014 in Europe. Lightning Returns is set to conclude the Final Fantasy XIII Lightning Saga.
Oerba Dia Vanille Brainwaves
7th October, 1 replies

For a game that's so obsessed with dressing up women, it seems weird that Vanille's new getup in Lightning...
Share Oerba Dia Vanille with others