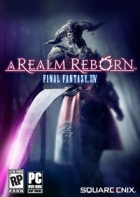 Final Fantasy XIV is a MMORPG developed and published by Square Enix. It is the fourteenth entry in the Final Fantasy series, and the second one to be a MMORPG. It was first released on the PC on September 30, 2010 and after many negative opinions, Square decided to revamp the entire game, shutting the servers down on November 11, 2012. The relaunch, dubbed A Realm Reborn, will launch simultaneously on PC and PS3 in 2013.
Final Fantasy XIV: A Realm Reborn Brainwaves
11th April, 0 replies

Final Fantasy XIV: A Realm Reborn is a massively multiplayer online role playing game that drops you...

27th January, 0 replies

The PlayStation 4 version of the MMORPG Final Fantasy XIV: A Realm Reborn will release worldwide on the...

4th September, 0 replies

To make up for the game's difficult launch, Square Enix will be offering an extended free trial to players...
Share Final Fantasy XIV: A Realm Reborn with others
Final Fantasy XIV: A Realm Reborn