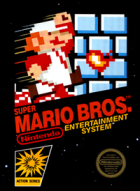 Super Mario Bros. is a side-scrolling platformer that was developed by Nintendo EAD and published by Nintendo. It was first released on the Nintendo Entertainment System on September 13, 1985 in Japan, in 1985 in North America and on May 15, 1987 in Europe. Since its initial release, it has been ported to a lot of other systems, including but not limited to, the Super Nintendo Entertainment System, Game Boy Advance, and the Wii's Virtual Console.
The game follows the story of Mario, who is on a journey to save Princess Toadstool, who was kidnapped by Bowser. It would go on to great reviews and become one of the models used for the genre, as well as even being mentioned as one of the greatest games of all time by various publications.
Super Mario Bros. Brainwaves
5th June, 1 replies

Six games have been inducted into the first class of the World Video Game Hall of Fame. The games are...

18th December, 1 replies

During today's Nintendo Direct event it was announced that NES Remix would be available for purchase...
Share Super Mario Bros. with others