Choosing a Protagonist
While all Tales games have always had an ensemble cast of playable characters, one to two characters have always been the main protagonists. For the first time in a Tales game, the player must choose one of the two main protagonists (Jude or Milla) as their starting character. Although the game differs only slightly in story based on this choice, the way the story is unfolded through events differs greatly.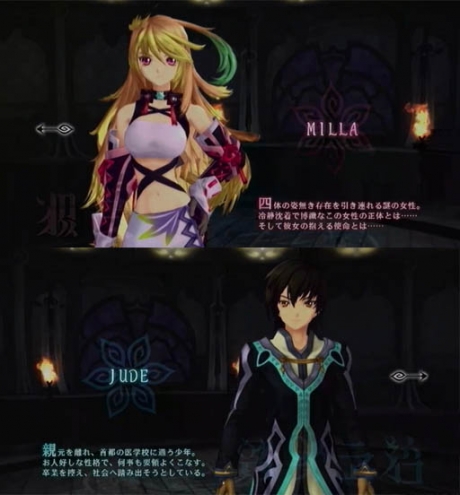 Leveling & Lilal Orb System
Instead of the traditional leveling systems used in the previous Tales games, the new Lilal Orb system is introduced. Similar to the Final Fantasy X Sphere Grid, players will spend Growth Points (GP) to enhance one of six stats: Strength, Vitality, Intelligence, Spirit, Agility, and Dexterity on a spiderweb-shaped lattice with nodes on the corners. Aside from basic stats, the player can also purchase artes and skills revealed by connecting to adjacent nodes.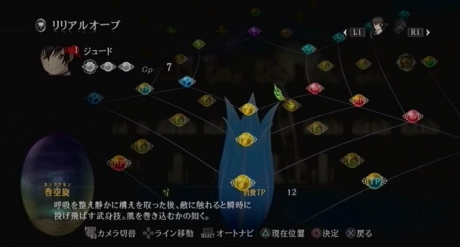 Skits
As with all Tales games, placed throughout the game are a multitude of Skits, funny conversations between the characters that develops the characters personality, comments on the game events, and in general is the meat of the game. These skits pop up based on conditions such as: seeing a previous event, progressing the story, having certain items in your inventory, or examining objects in the environment.
Artes
In the tales series Artes are used to dish out extra damage aside from typical character combos. In general these abilities are learned over the course of the game by leveling and in some cases side events. Moves are usually designated to one button and 4 artes can be mapped Linking these moves with your normal combos is the bread and butter of the Tales series in terms of being offensive.