Movement
Unlike the previous Tales games, Tales of Xillia will be the first game to utilize an over the shoulder camera, as opposed to the top down camera.
Using the acclaimed Linear Motion Battle System that the Tales of series is famous for, combat operates in real time on a 2D plane with the ability to free run by holding L2.
Artes
In the Tales series Artes are used to dish out extra damage aside from typical character attacks. In general these abilities are learned over the course of the game by leveling and in some cases side events. Moves are usually designated to one button and 16 artes can be mapped to the controls. These moves with your normal attacks are the bread and butter of the Tales series in terms of offense.
Skills
Skills are abilities that you can equip from the Main Menu that give bonuses for battle. The amount of bonuses you can equip is based on your characters SP, earned through leveling the Lilium Orb, and provide both attack and support bonuses to each character, as well as bonuses that work across Linked pairs.
Linking & Linked Artes
Upgraded to the Double Raid Linear Motion Battle System, players can team two characters up in combat for maximum effectiveness. The character controlled by the player is known as the "Master", while the AI partner supports the Master by taking actions such as surrounding the enemy or protecting the Master's rear flank.
In addition, both characters can team up and perform powerful unified attacks called "Linked Artes" by filling up a Link Arte Gauge during "Link Mode" and then performing certain prerequisite moves.
Linked Abilities
Over Limit
Technical Points & Assault Counter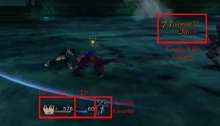 Combining two combat systems from previous Tales games, Xillia takes the Technical Points (TP) system from Vesperia and includes the Combo Chain or Chain Capacity (CC) system from Tales of Graces, now called the Assault Counter.
Like CC from Tales of Graces, each character has a set value of AC based on their current equipment and level. This number donates how many actions outside of basic movement and defense that each character can perform and chain together. To refill the AC the player must stand still/guard or performing specific actions during battle. TP, on the other hand, is used to perform artes and is recharged by performing normal attacks with AC.
Leveling & Lilum Orb System
Instead of the traditional leveling systems used in the previous Tales games, the new Lilium Orb system is introduced. Similar to the Final Fantasy X Sphere Grid, players will spend SP to enhance one of six stats:
Strength
Vitality
Intelligence
Spirit
Agility
Dexterity
Aside from basic stats, the player can also purchase artes and skills revealed by connecting to adjacent nodes.