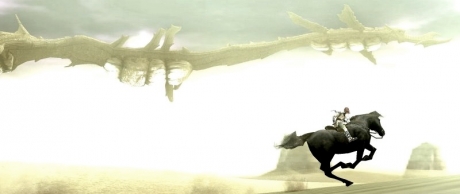 The Last Guardian's origins lie in the interaction between Wander and his horse, Agro, in Team Ico's last game, Shadow of the Colossus. The team wanted to build a game which focussed on the developing relationship between human and animal that become a key part of the story in Shadow of the Colossus. This was also a central part of the story in Team Ico's first game, Ico. The developing emotional attachment between the boy and Trico is thus at the heart of The Last Guardian's story.

A lot of time and work therefore went into the design of Trico, the griffon-like creature in the game. Ueda wanted him to have elements of a number of different animals, including birds, cats and dogs, so that the creature was familiar and relastic, but also unique.
Trico's movements are behaviour have also been a key focus. The team wanted to avoid the unnatural idiosyncrasies that many virtual animals have. Thus Trico will twitch when petted, show subtle emotions on his face, his ears will react if they touch the ceiling, and each feather on his body is a separate entity as far as the physics engine is concerned.
The boy will also exhibit more realistic reactions than in most games. For example, once they begin to bond he will reach out to stroke Trico if he is close, without any prompting from the player.
These animations, mimicking what real-life people would do, are all geared towards making interactions in the game as realistic as possible, and in so doing make the relationship development between Trico and the boy as affecting as possible.