Backpack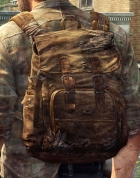 Joel's backpack is where he holds all his wear, weapons, and consumables. Beat up and fairly well used, it is a vital part of who Joel is.
By unlocking skins, Joel's backpack can change style:
Camper Backpack - $500
Military Backpack - $1000
Flashlight
The flashlight is a vital tool for Joel and allows him to navigate dark areas, just make sure to shake the batteries once in a while to keep the thing going.
Gas Mask
Infected spores are deadly to Joel, so carrying around his gas mask is what keeps him safe from exposure and death.