Factions are the multiplayer element of The Last of Us. In factions, players choose a faction, Hunter or Firefly, and try to build up their clan and protect them from others.
Choosing a Side
Upon starting up the multiplayer, players are asked to choose a side: Hunters or Fireflies. This initial choice is permanent and cannot be changed while the clan is alive until either they are wiped out or the player completes the 12 Week campaign.
There is little difference between the two factions, except HUD color (Blue for Hunters and Yellow for Fireflies) and dialog.
How Clans Work
Each clan consists of two major bits of information that is the basis for your objective in the multiplayer:
The larger your clan, the more supplies you need to keep them all healthy.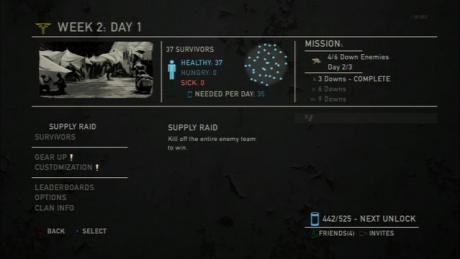 12 Weeks
Each game is a day, with the objective being to keep your clan alive for 12 weeks.
Population & Supplies
Your clan starts out with 10 healthy clan members. In order to keep these clan members alive, the player will need to collect supplies from matches each game. If a player is unable to scavenge enough supplies in a game, clan members will become unhealthy, sick, or even die.
There are two major ways to gain supplies:
Killing enemies and scavenging their bodies for supplies
Gaining parts through other deeds that are converted into supplies at the end of the match, spent or unspent
Clan Challenges & Missions
Every few days during the 12 week period the clan will face some sort of challenge. These challenges can result in either the addition of new clan members or the death of your clan population. In order to decide the amount gained or lost, players pick a mission type that they must complete in three days (matches). There is three tiers per missions, with each tier resulting in more gained or less lost.
Earning Supplies
While supplies are the primary way to feed the clan, all parts gained in a match are converted to supplies at the end of the match (spent of not). Almost every action in multiplayer results in gaining parts, meaning that a player can obtainall the supplies they need without ever gaining supplies from a downed/executed enemy.
Supplies Earned
Supply Raid
Survivors
Revive
100
100
Heal
20
20
Gift an Item
100
100
Craft an Item
30
30
Execution
50
50
Special Execution
75
75
Mark Enemy
15
15
Marked Enemy Downed
25
25
Retaliation
50
50
Revenge
50
50
Win Game
1250
1250
Lose Game
750
750
Win Round
-
425
Lose Round
-
250
Last One Standing
500
200
Suicide
100
100
Kill
100
100
Long-Ranged Kill
30
30
Assist Kill
50
50
Headshot Kill
30
30
Molotov Kill
25
25
Nail Bomb Kill
25
25
Shiv Kill
75
75
Multiplayer Modes
The Last of Us only has two multiplayer modes: Supply Raid and Survivors. Both modes count toward your clans timeline, with each game being a day in the week.
Supply Raid
In Supply Raid, players join a team of up to four players with a total of twenty respawns. Each time a player on a team dies and respawns, a life from the pool of 20 is taken away. When there are no more respawns on a team the round will enter Sudden Death, meaning that all deaths for the team will become permanent. The first team to lose all 24 respawns and then be wiped out loses.
All scavenged or crafted items on one life carry through death and will be available when the player respawns. This means that players can scavenge items in one life and then craft and use them in the next. Additionally, placed Nail Bombs will remain on the map, even if a player dies, allowing them to get downs even after they have respawned or permanently died.
Survivors
Survivors is a no respawn match of seven rounds with the first team to reach four wins the victor. Teams still consist of up to four players, but scavenged or crafted items do not carry over between rounds.
Ranking & Progression
Players ranking is not based on supplies or experience, but the number of weeks they have survived.
Each player starts out with a rank of 0 and two slashes //. When a player completes the twelve weeks for either faction a white dot appears to the right of their rank and the left of the two slashes. This will occur until the fourth dot, in which case an X with a dot on the left will replace the two slashes. This pattern continues on.