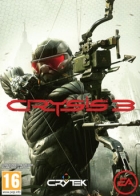 Crysis 3 is a first-person shooter developed by Crytek and published by Electronic Arts for the Playstation 3, Xbox360, and Windows in February 2013. It is the third game in the franchise with the same name and picks up where Crysis 2 left off.
Set in 2047, Prophet has returned to New York only to find the city encased in a giant Nanodome created by the CELL Corporation. The story follows Prophet as he takes on the CELL Corportation, who have falsly told the people that the domes were raised to protect the population from the remaining Ceph forces. In reality, the Nanodomes are CELL's covert attempt at a land and technology grab in their quest for global domination.
Crysis 3 Brainwaves
6th October, 0 replies

Crytek (Crysis, Far Cry and Ryse: Son of Rome), have admitted that it's becoming more and more difficult...

30th July, 0 replies

With the month of July coming to an end, it was only a matter of time until we learned about the new...
Share Crysis 3 with others