Beyond: Two Souls is an interactive drama action-adventure game that focuses on an emotional narrative that the player invests in rather than fancy action sequences. Gameplay is split between its two connected, playable protagonists: Jodie and Aiden.
The game follows Jodie Holmes through fifteen years of her life and explores her connection with the supernatural entity known as 'Aiden'. After being left by her foster parents she is brought up by researchers Nathan Dawkins and Cole Freeman, who conduct research on the infraworld for the fictional United States Department of Paranormal Activity, the DPA.
Navigation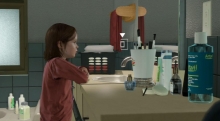 When playing as Jodie, the player uses a third-person perspective with fixed cameras to navigate their environment and see the world.
As the payer explores the world they will need to interact with objects or characters, indicated by a white circle, to progress the story and make decisions. During more intense sequences, such as with running or climbing, there is commonly quick-time events, which have the player press a certain button or button sequence in a timed sequence and failure can lead to death.
Decision Making
Like Heavy Rain, the player makes the decisions in the story through a set of button options when presented with choices. Some decisions can have good or bad results, while others are neutral.
Through Aiden's Eyes
When playing as Aiden, the player uses a first-person perspective and control is similar to that of Jodie. Aiden is tethered to Jodie, so he is limited to a maximum distance from her, but also has the ability to go through most walls. Though Aiden has no physical form, he can still interact with objects, marked by a light blue dot, and people with orange or red auras.
Aiden's Powers
Aiden's basic power involves hitting environmental objects by holding L1, moving the analog sticks away from the object, and then releasing them. In some situations, Aiden can directly protect Jodie by creating a barrier.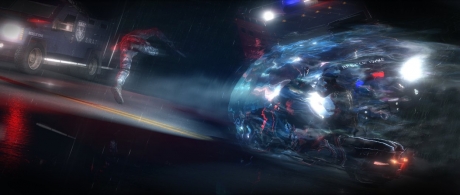 In some cases a character will be injured and surrounded by a green aura. If the player wishes they can heal them by holding L1 and moving the analog sticks on the injuries. Finally, certain people and objects can share memories with Jodie through Aiden.
Stealth & Combat
Beyond: Two Souls focuses less on the combat and uses stealth segments rather than pure action. To enter stealth the player hits R2 to duck behind cover. While in cover, pushing the left analog stick will lean out of cover. While leaning, hold X to cause her to sprint to the next piece of cover. If Jodie has a gun, hitting R1 will automatically fire it at an enemy. If they are within range and if approached in stealth an enemy can be taken down with stealth attack.
Though the game does not focus on combat, the story still requires both Jodie and Aiden protect themselves from others.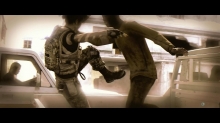 Jodie's basic combat is controlled mostly by the right analog stick through scripted fight sequence with points of impact going into slow motion. To avoid attacks the player must move the analog stick in the indicated direction or fail, though Jodie does not die from failed fight sequences.
Aiden's combat with humans is less direct. If an enemy is glowing orange, Aiden can posses them, which often allows him to kill both the host and any nearby enemies. On the other hand, if a character has a red aura Aiden will suffocate them instead.
Occasionally, Aiden will have to fight with other supernatural beings and is done the same way as basic hitting, with each hit knocking them back.