A Link Between Worlds is an action/adventure game, much like most games in the Legend of Zelda series. It utilises a mostly isometric two dimensional camera, much like many of the older Zelda games and recent handheld entries in the series.
However, since it has been developed with the Nintendo 3DS platform in mind, this top-down gameplay will be augmented with 3D effects and graphics.
Abilities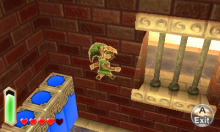 The most high profile new gameplay mechanic Nintendo are introducing in A Link Between Worlds is the ability for Link to turn into a drawing and 'enter' walls. This results in the camera angle shifting so that Link can move along walls to, for example, get across chasms or past certain enemies, or even access hidden areas.
Link's magic metre, which utilises many mechanics in the game including this ability to turn into a drawing, gradually refills over time. When Link is in 'drawing mode' this magic metre gradually depletes.
Exploration
The exploration elements that the series is well known for will be on display as well. Although the setting will be very similar to that of the original Link to the Past, Between Worlds will feature brand new dungeons and maps.
Link is also able to enter an alternate world, referred to as "The Other World", although little is currently known about this area in the game.
Items & Weapons
Many items and mechanics make a return from Link to the Past, such as Link's bow and arrows, his Master Sword which is great against the various enemies found in the game (it will also shoot projectiles when he is at full health), and the mallet which Link can use to knock pegs (and enemies!) into the ground.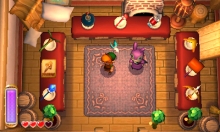 In early footage released for the game, Link is seen using the mallet to hit a mole into the ground. There is then a brief period of time in which Link can stand on top of the mole before it pops up and sends him flying into the air, allowing Link to access higher levels on the map.
Link is also able to purchase other items from the Item Shop, including wands/rods and a boomerang. The Item Shop can be seen in the image above.
For a complete list of items and weapons currently confirmed to appear in the game, head on over to the Weapons section, or the Items section.