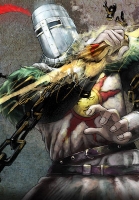 Solaire of Astora is the leader of the Warrior of Sunlight and a recurring character in Dark Souls. He is first met on the landing of the Undead Parish, where the player arrives after beating the Taurus Demon, and hands over the White Sign Soapstone, which allows players to be summoned to help another. When in human form, the player can call on Solaire's assistance for many of the game bosses, including Gwyn, Lord of Cinder.
Believed to be the firstborn son of Lord Gwyn, he became an undead willingly to look for his own "sun." As a helpful ally that the player can summon to many boss fights, Solaire is one of the most useful and significant characters in Dark Souls. His saying, "Praise the Sun!" can often be found on the ground in online play through user messages.
Latest Games
Developed by From Software for WIN, PS3, X360

Dark Souls is an open world action role-playing game, developed by

From Software

for the

PlayStation 3

,

Xbox 360

and

Microsoft Windows

. A spiritual successor to

Demon's Souls

, the game revolves around a dark-fantasy theme and sense of loss and caution. Like it's predecessor, Dark Souls is considered a challenging, yet rewarding, experience with players harshly punished for their mistakes.
Solaire of Astora Brainwaves
Share Solaire of Astora with others