Warrior of Sunlight is the covenant for the followers of Knight Solaire of Astora. They harness the power of sunlight, manifested as lightning powers. This covenant is also often known as the "SunBros" when refered to by the fans.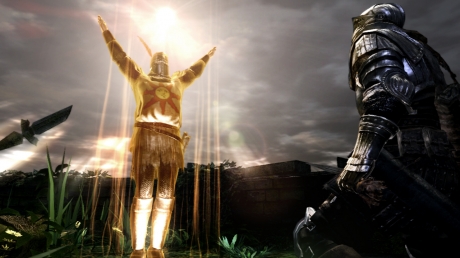 Joining
Joining the Warrior of Sunlight requires the player to have 25 Faith, but can be dropped by 5 for every boss you help someone kill as a normal white phantom. After meeting the Faith requirement pray to the Sunlight Altar next to the bonfire at the end of the bridge in Undead Parish.
Covenant Effects
Players who join Warrior of Sunlight are matched easier in online play and are summoned as gold phantoms. Additionally, helping or being helped by a Warrior of Sunlight for an area boss will reward the player with a Sunlight Medal, which can then be used to rank up the covenant and increase the damage of attack Miracles.
Ranks
Betrayal Penalties
Betraying or leaving this covenant results in the inability to use Sunlight Spear and halves the amount of previously offered Sunlight Medals.