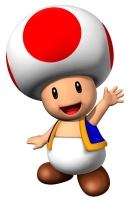 Toad is a single character that is actually part of an entire species, who appears in the Mario series of games. He is usually seen helping Mario in his adventures, although he sometimes does more. His first appearance was in Super Mario Bros. in 1985, where he was held captive in one of Bowser's castles and guarded by a fake Bowser.
Toad is generally seen as a happy person, without showing any kinds of anger. He can be quite cowardly at times, sometimes even abandoning his friends and fellow Toads, although he has been shown to be the exact opposite, helping out his friends and Mario.
Toad Brainwaves
9th October, 0 replies

Nintendo have confirmed that Captain Toad: Treasure Tracker is indeed launching in North America this...

16th June, 1 replies

Who saw this one coming? I would dare say few ever expected to see a full-length game based off of the...

10th June, 0 replies

Captain Toad: Treasure Tracker, a quirky spin-off from Super Mario 3D World, has just been announced...