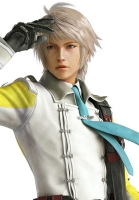 Hope Estheim is a playable character in Final Fantasy XIII and major supporting role in Final Fantasy XIII-2 and Lightning Returns: Final Fantasy XIII. He is the son of Nora, who was killed during the Purge of Bodhum, and Bartholomew Estheim.
In Final Fantasy XIII, Hope blames NORA and Snow Villiers for his mother's death and seeks to confront him. Unfortunately, his desire to avenge his mother's death causes him to get mixed up with the groups fate as l'Cie. In Final Fantasy XIII-2, Hope heads the scientific expedition team called the Academy, who seeks to help Serah Farron and Noel Kreiss in their quest to save the future.
Latest Games
Developed by Square Enix for WIN, PS3, X360

Lightning Returns: Final Fantasy XIII is a role-playing game developed and published by

Square Enix

for the

PlayStation 3

and

Xbox 360

. It will be released on November 21, 2013 in Japan, on February 11, 2014 for North America and February 14, 2014 in Europe. Lightning Returns is set to conclude the Final Fantasy XIII Lightning Saga.
Share Hope Estheim with others