Lightning Returns is the third game released in the FFXIII Lightning saga, using some similar elements from previous games, such as a modified version of the battle system. It also borrows things from other games in the series, such as Garbs functioning similar to Dresspheres in Final Fantasy X-2.
The game has an open world structure, where Lightning can walk from one place to another, as well as use a monorail or a Chocobo to get there faster. She can traverse these environments, using something like telephone poles to reach areas to find hidden treasure chests, for example.
The Doomsday Clock
Due to some circumstances in the game, Lightning only has 13 days in order to save the world. This is indicated at all times in the game by a counter. You begin the game with only 7 days and can extend this counter to 13 days. This is done by completing the main missions in the game, as well as the sidequests.
The clock is constantly counting down, with one in-game day being roughly equal to 72 real-time minutes. The only time the counter stops is when you are in menus, during cutscenes and during battles as well. Depending on the difficulty chosen, using the one ability, Escape, will make you lose an hour in-game time (Normal and Hard).
Encountering & Battle System
Lightning Returns utilizes a similar encountering system like the previous games, where enemies will appear on screen and Lightning can run into them to initiate battles. Depending on whether Lightning gets the jump on enemies or not, the battle can start with enemies having 10% or 25% of their starting HP knocked off, or Lightning can start the battle with 5% HP lost.
Battle System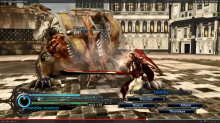 The game uses a modified version of the Command Synergy battle system found in Final Fantasy XIII and Final Fantasy XIII-2, called the Style-Change Active Time Battle system. This system incorporates a bit of real-time, allowing Lightning to move around somewhat while attacking enemies. Instead of choosing abilities from a list, they are assigned to the four face buttons.
The ATB system is still there, except they revolve around the Schemata instead of Paradigms. Lightning can equip up to three different Schemata to bring into battle, each with their own ATB bar. As she performs attacks, that Schema's ATB bar will decrease and will need to recharge to carry out more attacks. She can switch to other Schemata to let the previous recharge, and will have to wait if all bars have been emptied.
Knock Out
The Knock Out system replaces the Stagger system in the previous games, but is similar in nature to it. By utilizing specific attacks, which changes depending on the enemy encountered, you can knock the enemy out to where they can't attack and can take more damage than usual. This can be done by exploiting elemental weaknesses, dealing big damage in succession or even as simple as timing a block against an enemy's attack.
Energy Points
Energy Points, or EP for short, are similar to Technical Points in Final Fantasy XIII, and are used on special abilities that Lightning otherwise wouldn't be able to access. Some of these abilities include Chronostasis, which temporarily stops time, and Escape, which allows Lightning to escape from battle.
Lightning starts the game with 5 EP and each ability uses a certain amount, some of which increases depending on the difficulty being played. The maximum amount can be increased as Lightning completes quests, and they can be replenished in a few ways, such as defeating enemies.
Questing System
The quests in Lightning Returns do more than just offer a means to get through the game. Lightning does not level up and gain stats like most normal RPGs, but she gains stats for finishing both the main story quests, as well as the sidequests in the game. In addition, doing the quests will also provide Lightning with more time in the game, up to a total of 13 in-game days.
The Last Ones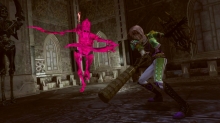 The Last Ones is a mechanic in which Lightning will be able to make certain enemy species extinct in the game's world, although not every single enemy will be able to be eradicated in this manner. When the last enemy is encountered, they will be a different color (purplish) and be a lot stronger than the normal species. Upon defeat, that species will be gone from the world and Lightning will sometimes be rewarded with items that might not be obtainable elsewhere.
Outerworld Communication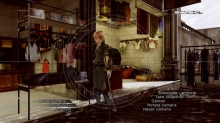 This feature lets players post updates from their game, such as defeating bosses, to sites like Twitter and Facebook. These can be messages as well as screenshots, which can be taken with or without Lightning in the picture.