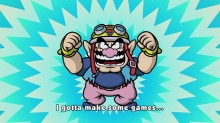 Crowdfarter is Wario's spoof of the popular Crowdstarter funding platform. Unlike Crowdstarter, which relies on monetary donations to fund games, Game & Wario's Crowfarter requires Facebook Likes and Twitter Tweets in order to unlock certain stretch goals.
Crowdfarter Goals
Each time someone "donated" by clicking on the Like or Tweet button on the Crowdfarter page, a meter on the page would moves closer to a goal. Each goal unlocked fun rewards:
When the Crowdfarter reached 5 bajillion coins, it unlocked an exclusive digital badge that says "I CROWDFARTED!".
When it hit 25 bajillion coins it unlocked a wallpaper image of Wario.
At 50 kajillion coins everyone receives a Wario ringtone.
At 100 katrillion coins, a new trailer is released.