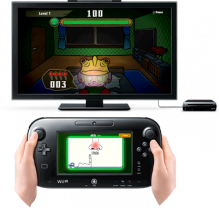 Gamer is a single player game hosted by 9-Volt - a young child who likes to play video games at night when he's supposed to be sleeping.
Gamer consists of playing short WarioWare-esque mini-games on the GamePad as 9-Volt, whilst at the same time keeping an eye out to avoid being caught by his mum. Stay hidden for too long, however, and 9-Volt will fall asleep.
The TV screen shows 9-Volt's room, while the GamePad shows the gameplay screen for Balloon Fighter. When mom comes around, immediately press a button to pretend to sleep.