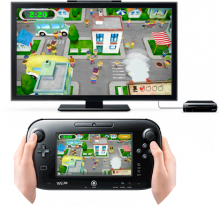 Fruit is a 2-5 player mini-gamehosted by Penny.
One player uses the GamePad to be an apple thief, while the other players take on the role of Agents trying to spot the lawbreaker in the crowd on the TV screen.
At various intervals, hints will appear showing the rough location of the thief and at the end of the game, the remaining players take it in turns to select who they believed to be the thief.
Thief: Use the GamePad to steal fruit within a time limit. Make sure the other players don't see the GamePad screen. To avoid being spotted, use the crowd and items in the environment to hide your movements.
Agents: Scan the crowd and try to find the thief before your time is up.