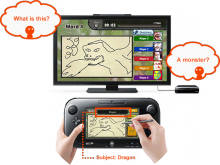 Sketch is a 2-5 player game hosted by Orbulon.
One player looks at the clue and draws it on the GamePad. The other players look at the picture on the TV and try to guess what it is. Players get points for the number of pictures drawn and the number of correct guesses.
When it's your turn, use the stylus to draw a picture on the touchscreen. Be careful not to let the other players see the clue.