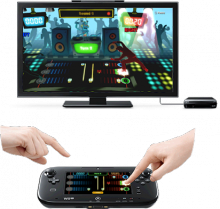 Disco is a two player rhythm game hosted by Mike the robot.
The first player will create a rhythm that the second player has to try to recreate - or give up points. The player with the highest total wins.
The two players face each other from opposite ends of the Wii U GamePad and then touch the screen with their fingers to keep the beat.