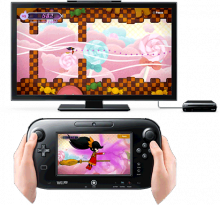 Ashley is a side-scrolling single player game presented by the titular Ashley. You must guide Ashley on her flying broom through stages made of sweets, watch out for the walls and other objects.
You play the game by using the GamePad to control Ashley's flying broom. If Ashley runs into walls too often, she'll stop moving until you use the touchpad to pat her head and make her feel better. You can also fly through the blue orbs for special moves that can be used later.
The key to high scores is gathering spell power without missing. If you remember where each orb is, you can achieve a perfect score.