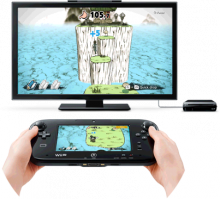 Kung Fu is a single player platforming game, hosted by Young Cricket and Master Mantis.
You use the GamePad to figure out where to land and guide Young Cricket from platform to platform. But don't let his stomach get too empty or he might not make it all the way to Master Mantis.
In order to play, holld the GamePad level, then tilt it back, forward, left, or right to advance Young Cricket through the course. You can fill Young Cricket's stomach by landing near dumplings.