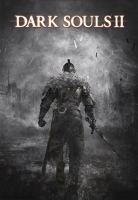 Dark Souls II is the latest installment in the Dark Souls series of action RPGs. The game was developed by From Software and published by Bandai Namco for the PlayStation 3 and Xbox 360 in March, 2014. A Windows PC version of the game is expected to release in April, 2014.
The sequel to 2011's critically acclaimed Dark Souls, Dark Souls II features an all-new hero and storyline, based in an unfamiliar world where players must struggle to survive deadly encounters with all sorts of different foes.
Dark Souls II Brainwaves
11th July, 0 replies

UK retailer Tesco has listed Dark Souls 2 for next gen consoles. Officially, a next-gen version hasn't...

15th June, 0 replies

Anyone who's played a recent RPG by From Software and loved it should know why Bloodborne has so many...

11th June, 0 replies

Dark Souls II DLC was recently announced. It's a three-episode expansion, with the first episode set...
Share Dark Souls II with others