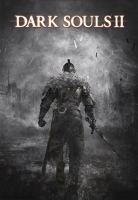 Dark Souls II is the latest installment in the Dark Souls series of action RPGs. The game was developed by From Software and published by Bandai Namco for the PlayStation 3 and Xbox 360 in March, 2014. A Windows PC version of the game is expected to release in April, 2014.
The sequel to 2011's critically acclaimed Dark Souls, Dark Souls II features an all-new hero and storyline, based in an unfamiliar world where players must struggle to survive deadly encounters with all sorts of different foes.
Dark Souls II Brainwaves
2 days ago, 0 replies

Users over on NeoGAF are reporting that they're getting emails from retailers stating that their pre-order...

19th March, 0 replies

From Software have come out to resolve allegations that they downgraded the graphics of Dark Souls 2...

7th March, 0 replies

The winter freeze is almost over! As the weather begins to warm up, the slate of games being released...
Share Dark Souls II with others