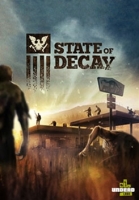 State of Decay is an open world zombie survival horror game, developed by Undead Labs for Xbox 360 and Microsoft Windows. Unlike games such as Left 4 Dead and Dead Island, State of Decay focuses on survival, stealth, evasion, distractions, securing resources, and moving through the world than actual combat. Players must choose a location to build a base and gathering supplies through raids to abandoned buildings in the surrounding areas. Players can encounter and rescue other AI survivors to trade with or recruit to defend the base.
The player starts out as Marcus, a store clerk who finds the world has gone to hell after a hunting trip. As the player gathers survivors and builds relationships, the player can play other characters. The story progresses based on whether the player is focused on the story events, which when triggered can change the world drastically, making it more difficult to survive.
State of Decay Brainwaves
8 days ago, 0 replies

Last year the developer behind State of Decay, Undead Labs, was asked if we would see State of Decay...

12th February, 0 replies

Open-world zombie game State of Decay is getting a new expansion, titled State of Decay: Lifeline, developer...

11th January, 0 replies

Undead Labs, the developer behind 2013's breakout XBLA hit State of Decay, has extended its agreement...
Share State of Decay with others