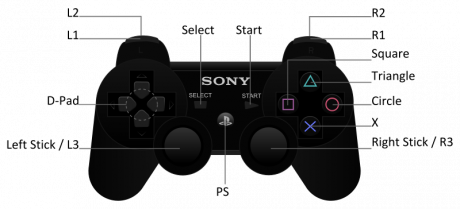 The Dual Shock 3 was first announced at Tokyo Game Show in 2007, with it being released in November of the same year in Japan. By July 2008, the controller was available in all regions. It wasn't until October of 2008 that the Dual Shock 3 was bundled with all future systems. The Dual Shock 3 incorporates all features of the Sixaxis, and also rumble technology, which was lacking in the Sixaxis controller.
The controller is easily identifiable due to the top of the controller having "Dual Shock 3" written on it, in addition to "Sixaxis." The Dual Shock 3 is also 40% heavier than the Sixaxis, and is made from a different kind of plastic. Both the vibration and motion sensing technologies can be used at the same time, and do not interfere with each other.

There are a myriad of colors available for the Dual Shock 3, with the default color being black. Not all colors are available in all regions or can still be bought. Different colors include black, satin silver, ceramic white, classic white, metallic blue, deep red, pink, jungle green, candy blue, urban camouflage, and cosmic blue. There have also been limited edition controllers released alongside limited edition consoles.