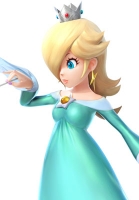 Rosalina is only the third female major character in the Mario series, next to Peach and Daisy. She made her debut in Super Mario Galaxy, where she was the watcher of the cosmos and helped Mario in his rescue of Princess Peach. She is also the adoptive mother of the Lumas, a species of star-like creatures that appeared in Super Mario Galaxy.
She resembles Princess Peach somewhat, although she is taller than her (almost as tall as Waluigi). She is considered to be very kind and has mother qualities, which is displayed in her caring nature with the Lumas. She also displays a lot of knowledge about the universe. Her hair is lighter than Peach's, she has blue eyes and she wears a turquoise dress.
Rosalina Brainwaves
11th November, 1 replies

Nintendo have been pushing their Amiibo line hard as of late, with the number of games supporting them...

18th December, 1 replies

As confirmed by this morning's Nintendo Direct in a rather tricky video that appeared to advertise a...
Share Rosalina with others