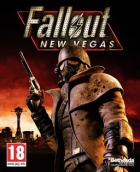 Fallout: New Vegas is a role-playing game in the perspective of a first person shooter or third person shooter (depending on the perspective you choose).
It is set mainly in a post-apocalyptic Nevada and areas around, although some areas of California and Arizona can also visited whilst venturing around the game.
Fallout: New Vegas Brainwaves
25th January, 0 replies

Pete Hines, Vice President of Bethesda Softworks has reveled the company will be in attendance at this...

7th December, 0 replies

The purported Fallout 4 teaser site that appeared last month is a hoax, according to Fallout series developer...

3rd May, 0 replies

Obsidian Entertainment, the developer behind Fallout: New Vegas and the Neverwinter Nights sequels, amongst...
Share Fallout: New Vegas with others