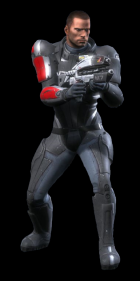 The soldier uses a variety of weapons together with ammo and combat powers to take down enemies.
Powers
Adrenaline Rush – Increases weapon damage.
Concussive Shot – a powerful shot that knocks enemies back.
Frag Grenade – an explosive grenade.
Incendiary Ammo – deals fire damage to enemies.
Disruptor Ammo – deals extra damage to barriers and shields.
Cryo Ammo – has a chance of snap-freezing enemies.