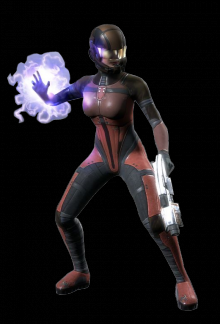 The Vanguard is a class based around charging into groups of enemies and using powerful attacks to take them out. Deadly, but high-risk.
Powers
Incendiary Ammo – deals fire damage to enemies.
Cryo Ammo – has a chance of snap-freezing enemies
Pull - a projectile that causes enemies to float in the air.
Biotic Charge – propels the Vanguard towards an enemy, dealing damage and recharging the Vanguard's barrier.
Shockwave - A power that knocks weaker enemies aside.