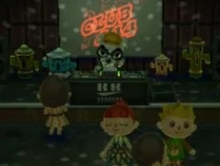 Club LOL (Club 444 in Japan) is one of the new buildings in New Leaf, and serves as the main entertainment venue, with it being run by Dr. Shrunk. During the day, the player can visit to learn emotions from Dr. Shrunk. At night, the player can find K.K. Slider performing one of his songs.
In order for Club LOL to be built, the player first needs to upgrade Nookling Junction to T&T Mart. After doing that, Dr. Shrunk will visit the mayor's house the next day and petition to have the club built. Once he has permission, you will need to get six signatures from your villagers. If you decline, you can still get the club via Public Works Projects.
Dr. Shrunk will perform various comedy routines upon getting a gift, which will let the player learn emotions. K.K. Slider will perform as a DJ on Sunday through Friday, performing remixes of songs. On Saturdays, he will be playing his guitar, similar to previous games and after this performance, he will give the player a copy of the song he just did.