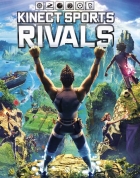 Kinect Sports Rivals is an upcoming motion-sensing sports game being developed by Rare and set to be published by Microsoft Studios exclusively for the Xbox One. It was set to be released as a launch title for the Xbox One, but was pushed back to Spring 2014, to allow Rare to polish it more.
The latest entry in Rare's Kinect Sports series of games, this is set to be the first entry on the Xbox One and will in turn utilise the Kinect 2.0 sensor for the first time. New sports include bowling, jetski racing, rock climbing, soccer, target shooting, and tennis.
Kinect Sports Rivals Brainwaves
22 days ago, 0 replies

Making his videogame voice-over debut, David Tennant will narrate your adventure in Xbox One's Kinect...

12th February, 0 replies

Kinect Sports Rivals for the Xbox One now has a release date: April 8th for North America, Australia,...

28th October, 0 replies

Though Rare Ltd.'s Kinect-controlled sports title, Kinect Sports Rivals, was delayed until Spring 2014,...
Share Kinect Sports Rivals with others